You feel that? If you're in NYC, you probably can't feel it yet, but Spring is finally here. Which means warm weather is (hopefully) around the corner. And with warm weather comes gorgeous days, and with gorgeous days comes the call of the open road. While many people's first inclination is to imagine themselves in a droptop, cruising around coastal roads, this year, we here at Complex are thinking a little differently. We're thinking of ourselves on something with two wheels, handlebars, and a screaming motor wedged in the middle. Yes, we're thinking of motorcycles.
Why motorcycles? To paraphrase our good friend Wes Siler of Hell For Leathermagazine, motorcycles are faster than cars, they're more fun to ride, and the man/machine connection is more pure. They also pack in a very rich history. You probably didn't know BMW and Honda made two-wheelers before venturing into the automobile business. Now you know. It's with that in mind, and our itching want to cop our own bike, that we teamed up with motorcycle writer and Hell For Leather contributor, Nick Goddard, to help us compile our list of the 50 Greatest Motorcycles of All Time. Ride out.
Words by Nick Goddard
50. Honda CT90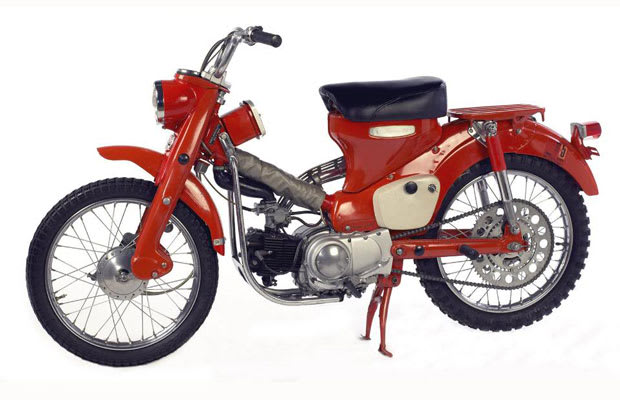 Year: 1967
Type: Enduro
The CT90 is the Honda 50's rougher big brother. Of course, big is a relative term, and the CT90 will still struggle to top 50mph and has narrow little knobbies. A two-range transmission helps make the best of the 7bhp and it's easy-riding nature makes it popular with hunters and Australian postmen.
49. Moto Guzzi Le Mans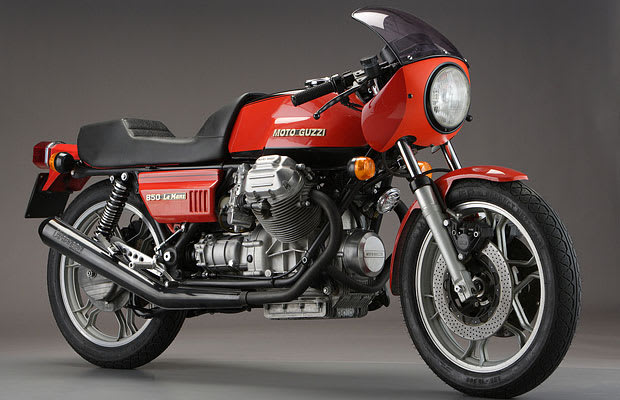 Year: 1976
Type: Sportbike
The V-Twin in Moto Guzzi's Le Mans had a longitudinal crank, so blipping the trottle at a standstill would make the bike writhe in place. The twin had some bite, too, making 80bhp and pushing the Le Mans to 120mph. The sinister Le Mans was an immediate hit when launched in 1976.
48. Triumph Bonneville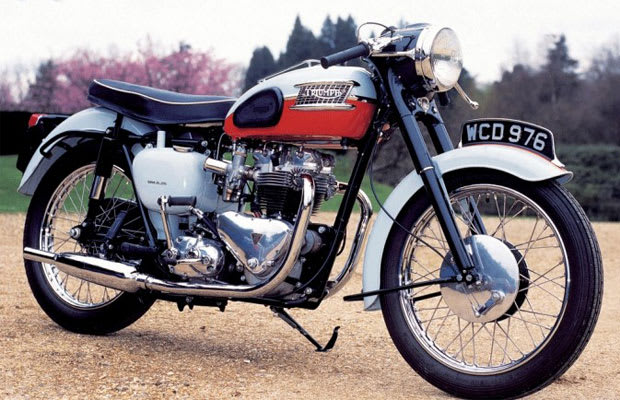 Year: 1959
Type: Sportbike
The Bonneville T120 was Edward Turner's last creation at Triumph, but was produced for 13 years. Nine years into the run, the Bonneville was selling at a rate of nearly 30k per year in the U.S., but the advent of the high-performance Japanese cruiser led Triumph to bore out the 650cc T120 and create the 744cc T140.
47. Kawasaki KLR250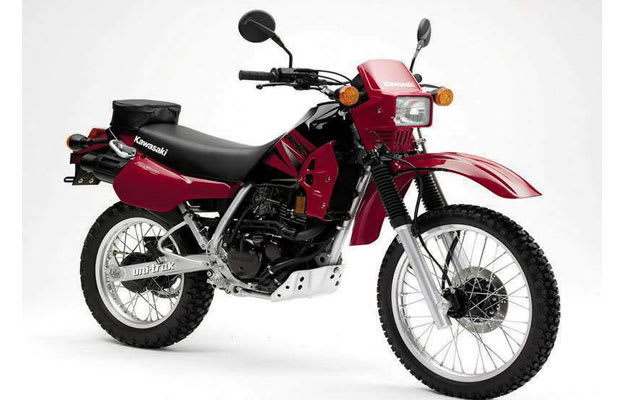 Year: 1990
Type: Enduro
The KLR250 is one of the tamer bikes on this list, but it's been around for 25 years and hasn't missed a beat. A water-cooled street-legal dirtbike that can return 70mpg and be entertaining off-road, the KLR may never keep up with a motocrosser but it makes a great first dirtbike.
46. Yamaha GTS1000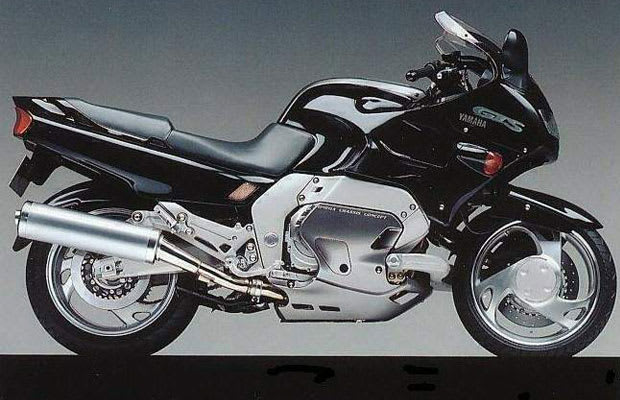 Year: 1994
Type: Sportbike
Yes, Vespas have single-sided forks, and Bimota's Tesi is forkless, but the single-sided hub-centric steering of the GTS1000 puts it in a class of its own. In contrast to the staid bodywork on the Yamaha, the single-sided front end looks even more dramatic. It worked well, but the GTS1000 was more expensive than its rivals and so it remains a rare sight.
45. Honda Africa Twin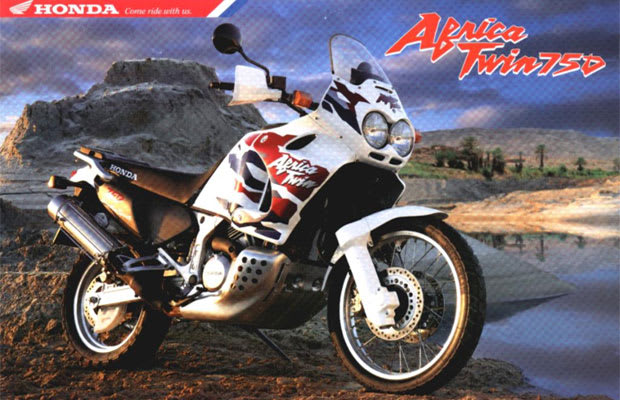 Year: 1989
Type: Enduro
Most motorcycles are fragile things. Heck, some sportbikes can be totalled by falling off their sidestands. Not the Africa Twin.  The more nicks and scrapes it gets, the better it looks, and its lazy 750 has been known to go over 100000 miles. Normally, riders see if their bikes can keep up with the abuse they get. With the bulletproof, Dakar-winning Africa Twin, it's the other way around.
44. Yamaha FZR 600
Year: 1990
Type: Sportbike
The FZR 600 was made for ten years and is the trackbike of choice for many an amateur enthusiast. It is reasonably attractive, fast enough to entertain, and inexpensive enough to allow spirited riding. Yamaha eventually stopped the FZR to make room for the R6, but it's hard not to mourn the loss of the bike that introduced so many would-be racers to the track.
43. Honda CBR250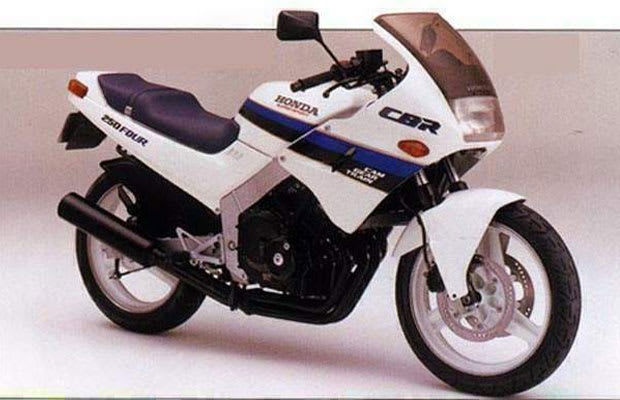 Year: 1987
Type: Sportbike
The CBR250 may not be much to look at, but its tiny inline-four can rev to 20,000—Formula 1 territory. That puts it right up there with the spinniest road-legal motors ever. In contrast, Honda's 2011 CBR250 is made in Thailand and has a single that can spin to maybe 11k—that would have been an entry-level bike than, rather than this half-pint-sized screamer.
42. Suzuki SV650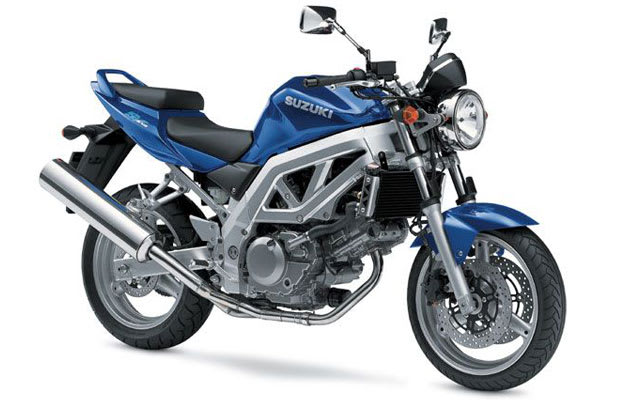 Year: 2003
Type: Sportbike
From a pure performance standpoint, an inline four is better than a twin of equal size. On the street it's another story—riding a twin is like riding a quarter of a Corvette rather than a giant sewing machine. Suzuki's SV650 is an accessible version of a Ducati Monster, and with a little fettling makes a fantastically entertaining—if not wildly fast—trackday plaything.
41. Indian Chief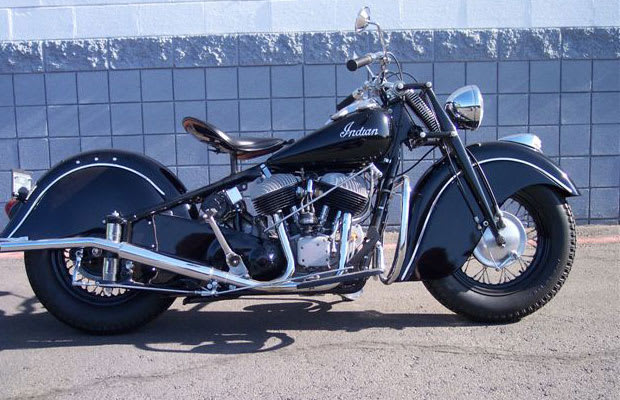 Year: 1947
Type: Cruiser
Indian's range-topping Chief had a 1200cc motor and could reach 85mph at the top of third gear. Compared to today's bikes the stunning Chief has a wild control layout with a left-foot clutch and hand-operated shifter near the tank. Unlike many Harleys, this Indian had rear suspension, so the ride was as smooth as its looks.
40. Honda Motocompo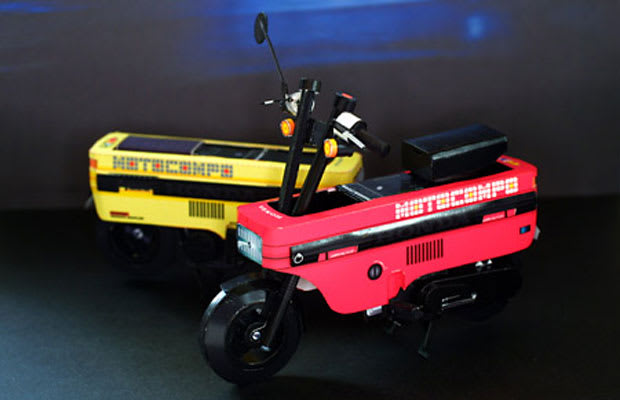 Year: 1981
Type: Minibike
It's almost a transformer, but the Motocompo never quite becomes a motorcycle—it gets stuck at the "box with wheels and handlebars" step. The idea was to have a motorcycle that could be popped in the trunk, and the Motocompo delivered.  The quirky 50cc two-stroke captured the hearts of Japan and Honda sold 53,000 Motocompos between 1981 and 1983, triple its initial estimate.
39. Honda Rune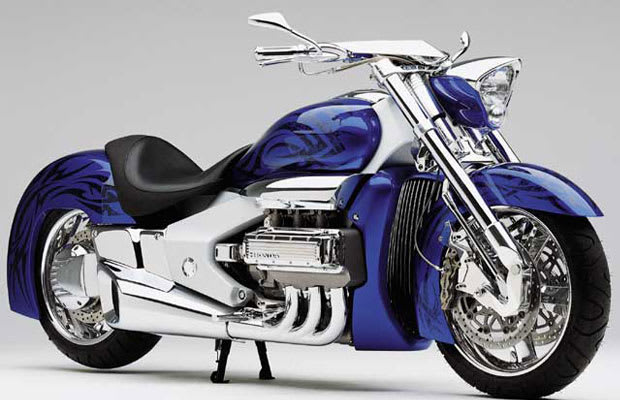 Year: 2004
Type: Factory Special
The Rune was Honda's crazy project at the beginning of the Millenium. It had a 1800 flat-six goldwing motor and a trailing-link fork, but the exciting bit is the styling and the sheer scale of the thing. It weighs about 850lbs and is a mile long.  Dealer orders were triple what Honda expected for their made-in-Ohio Rune.
38. Honda CB750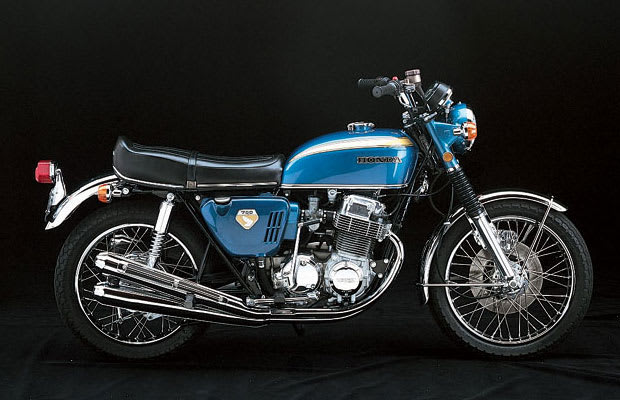 Year: 1969
Type: Sportbike
When Sorichio Honda first laid eyes on American bikes he couldn't believe how big there were. He went home and came up with the CB750—it was the first successful inline-4 sportsbike and over 400,000 were eventually produced between 1969 and 1978. The popularity was due to the reliability, styling, and performance, but it also had a kill-switch and flashing turn signals. That was a big deal back then.
37. Cannondale S440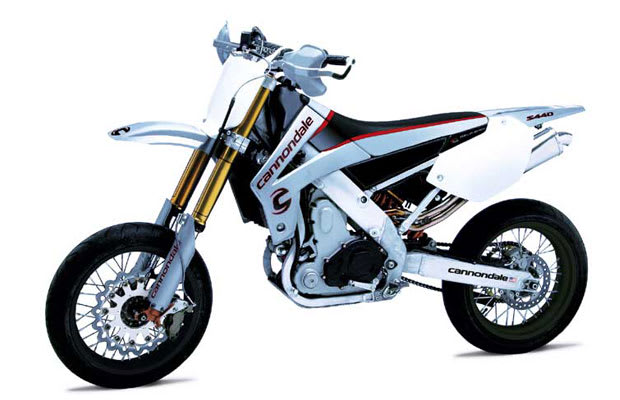 Year: 2003
Type: Supermoto
This was another bike that was way ahead of its time. Cannondale branched out from its late 90s success in the mountain bike world, and started wrapping fuel-injected four-strokes in their aluminum frames before adorning them with Ohlins shocks. It was refresing to see American-made dirtbikes, but they weren't profitable and Cannondale went into receivership before they could get the production costs down.
36. Honda VFR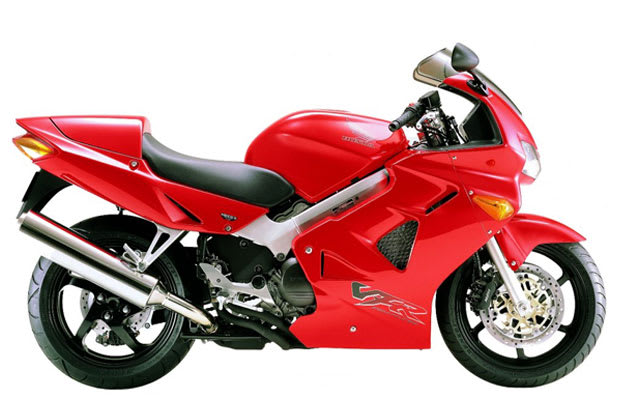 Year: 2000
Type: Sport Touring
The VFR underlines the importance of livability in the fast road equation. The VFRs have historically been more technologically exciting than their CBR stablemates, with singlesided-swingarms, VTEC, and ABS. The latest VFR even has a dual-clutch transmission. However, the fifth generation was better looking and wasn't burdened with pointless technology; it is the best of the VFRs.
35. Honda XR650R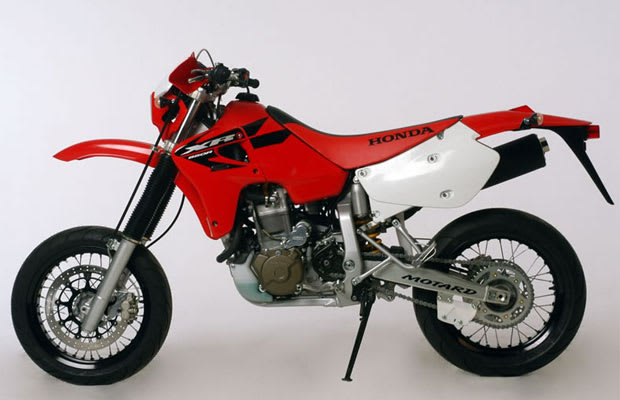 Year: 2000
Type: Dirtbike
Honda's XR650 was made from 2000 to 2007 and basically dominated Baja racing. It was water-cooled to cope with the heat, and the monster single was bulletproof as a result. The reliability and big power has also made the Big Red Pig popular with the supermoto crowd, but its fame came from its success as a racer—its Baja record is unequalled.
34. KTM 950 Adventure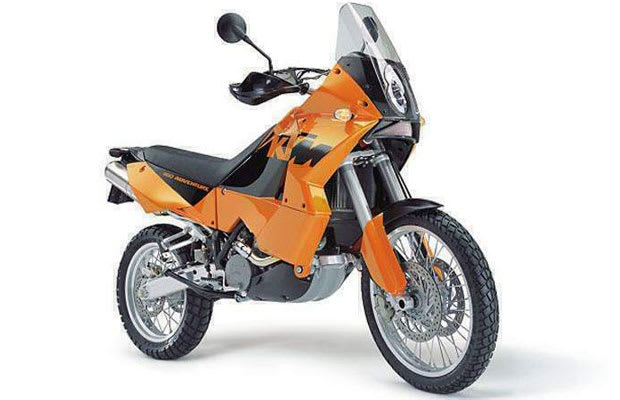 Year: 2004
Type: Enduro
The KTM 950 Adventure is a 100bhp, 140mph monster of a bike. It looks more like a streetbike than most other KTMs, but it can rip in the dirt—if you want to spin up the rear tire at 115mph, the 950 is your bike. It may look similar to a BMW GS, but it can destroy them offroad.
33. Honda CR500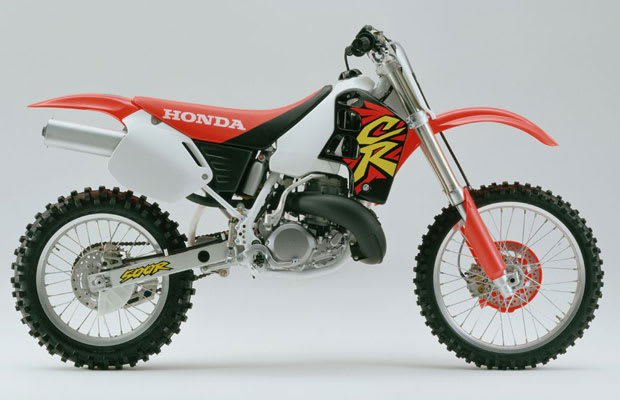 Year: 1985
Type: Motocrosser
Just ten years ago nearly all motocrossers were two-strokes, and the mean big brother of them all was the CR500. Stock, it made 58bhp and weight just 230lbs. It didn't fit in any racing categories so Honda barely bothered updating its noodley frame, but that didn't stop Robbie Knievel using one to jump 5 billion dollars at an ING Bank event.
32. Gilera Nordwest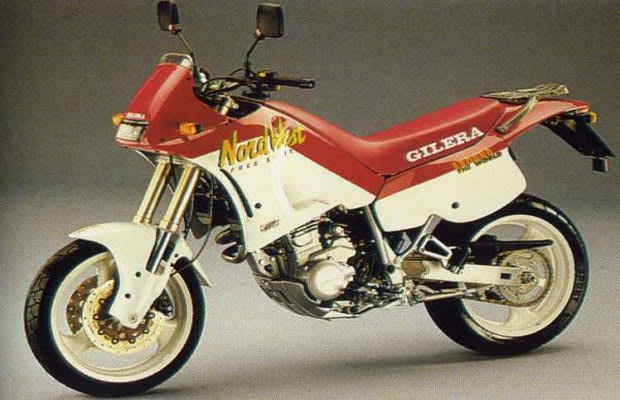 Year: 1991
Type: Supermoto
KTM came out with the Duke in 1994, but it wasn't the first production supermoto. That title goes to Gilera's Nordwest of 1991. It was a 600cc single, and pretty much shook itself to pieces. The electrics were terrible, and the plastic would all fade to yellow, but that wasn't the point. The Nordwest proved that the world was ready for sumos, and we have it to thank for Suzuki's DRZ, the WR250, and countless Huskys and KTMs.
31. KTM 250EXC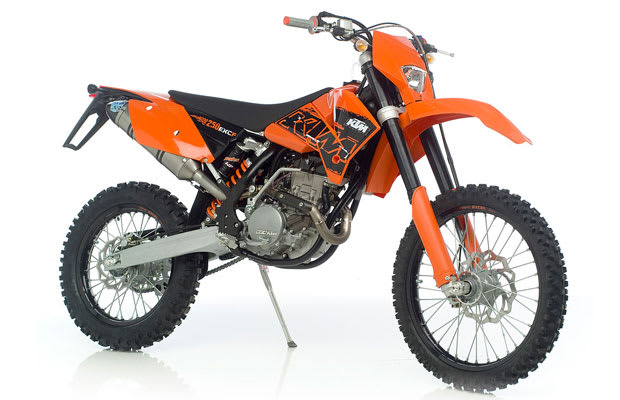 Year: 2005
Type: Motocrosser
If greatness can be measured by fun, perhaps this 250 is the greatest bike ever. It's a street-legal two-stroke enduro that can ride to the trails, hit some triples, then come home quietly enough to keep the neighbors happy. It keeps wallets happy too; with that simple two-stroke, a new top-end is only a few hundred dollars away.
30. Suzuki GSXR 1000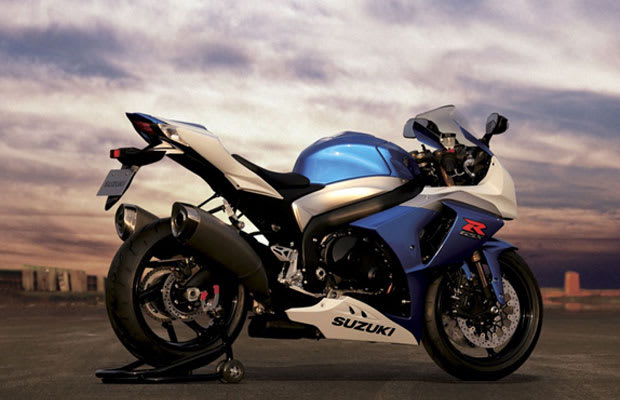 Year: 2005
Type: Sportbike
Ever since the original GSX-R, superbikes have been scarily fast and getting faster. In the past five years ABS, traction control, and throttle maps have worked to tame its bite. The '05 Gixxer Thou was the last of the real "widow-makers"—it was lighter and significantly more powerful than the '04, while the '07 was 15lbs its senior, and was tamed with throttle maps and a restrictive emissions-compliant exhaust.
29. Ducati Supermono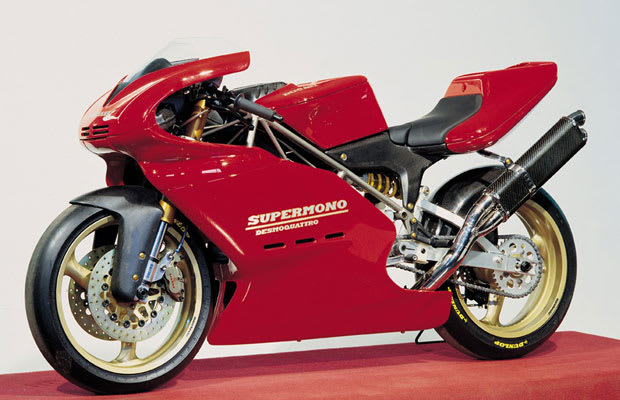 Year: 1993
Type: Factory Special
Ducati has for years been synonymous with the V-twin, but twins aren't all it makes. The Supermono was Ducati's entry to a single-cylinder racing series also called Supermono, and it weighed just 267 lbs. The engine had an extra "dummy" connecting rod to help quell vibrations, and the frame used a cantilevered rear shock. Only 65 were ever made, and the Supermono is revered by Ducati collectors worldwide.
28. Honda CBR600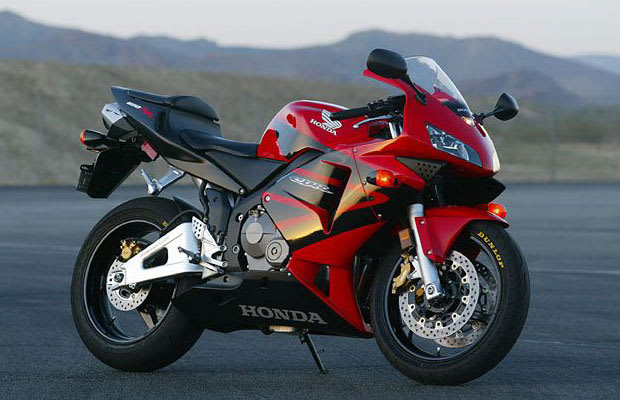 Year: 2003
Type: Sportbike
Choose any year of the CBR600's production run and you're guaranteed a reliable and rideable, fastish sportbike. They're good for couriers, they're good for racers, and it is possible to tour and stunt on them too. The CBR600 has been accused of being bland, and it isn't the prettiest 600 out there, but for everyday use it has yet to be equaled.
27. BMW GS1200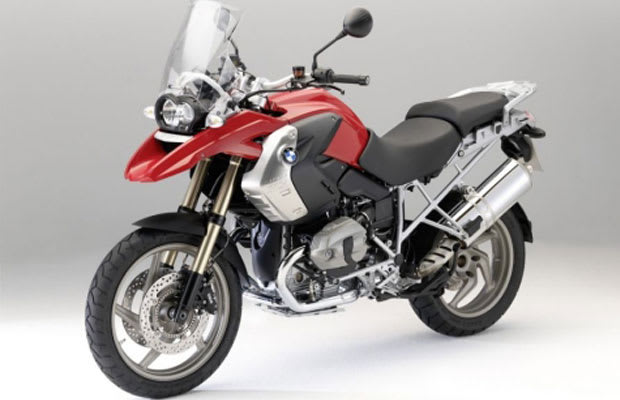 Year: 2010
Type: Adventure
The bike that spawned an entire forum of imitators, BMW's legendary GS can go around the world without breaking a sweat. A careful study of the wheels shows that the GS means business. The hub-mounted spoke nipples keep out water and grit, and the spokes themselves slant from one side of the hub to the other side of the rim for increased strength (they can be replaced with the tire on the wheel). And shaft drive means no chain adjustments. All this wouldn't sound so boring when nightfall is coming in the Sahara and you've still got 150 miles to go.
26. BMW S1000RR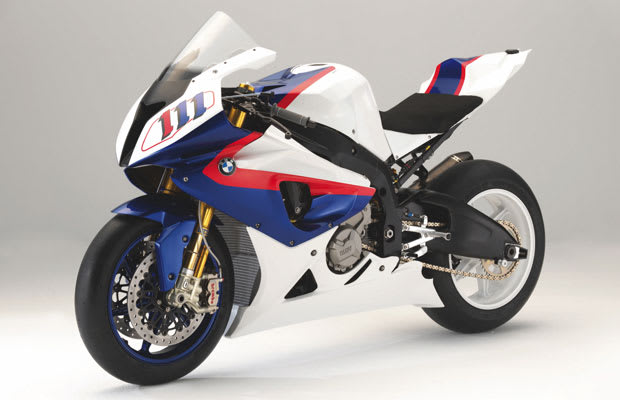 Year: 2010
Type: Sportbike
After years of making adventure bikes and weird sport-touring machines for old men, BMW finally pulled out all the stops for their S1000RR. What they came up with is an inline-four weapon with 180bhp, traction control, and ABS. It is the quickest sportbike available today; a stock one cracked 196mph at Bonneville last year.
25. Triumph Speed Twin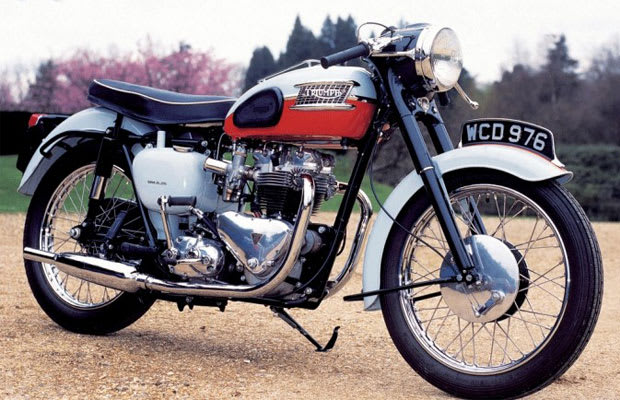 Year: 1937
Type: Sportbike
The Speed Twin was fast, smooth, and inexpensive. The genius behind the design was ex-Ariel designer Edward Turner, who used the transmission and other bits from the Triumph singles to keep costs down. Other British marques realized what a great formula this was and introduced their own twins after the war.
24. Ducati 900ss SP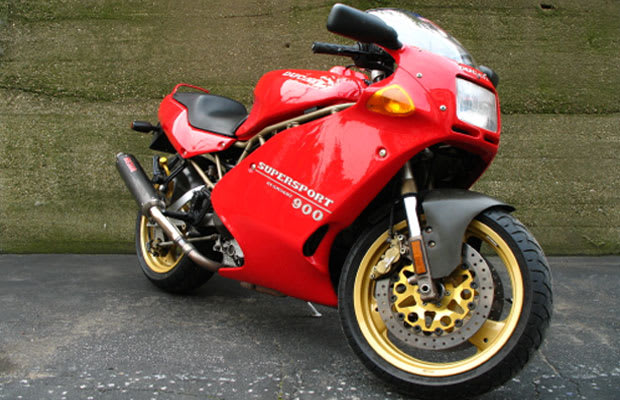 Year: 1994
Type: Sportbike
The 900ss suddenly looked blunt and dated when the 916 came out, but compared to today's increasingly self-conscious superbikes, its appearance is refreshingly puggish and gruff. The big twin sounds like a volcano and lasts forever, and the riding position is far more comfortable than that of a 916. A future classic.
23. Rokon Trailbreaker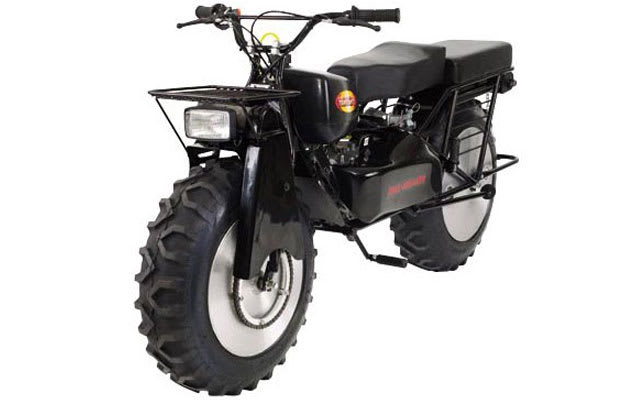 Year: Circa 1960
Type: Utility
Those drum-like wheels mean the Trailbreaker floats. If you don't care about floating, each one can hold 4.5 gallons of gas. They're so fat, in fact, that they can leave a track that's lighter than a man's footprint. With two wheel drive and a balanced chassis, the Rokon can go almost anywhere, and was the choice of the Special Forces in Desert Storm. It uses the same parts all over the bike—one bearing size appears eighteen times on the bike—and has power take-offs to run generators.
22. Honda CBR900RR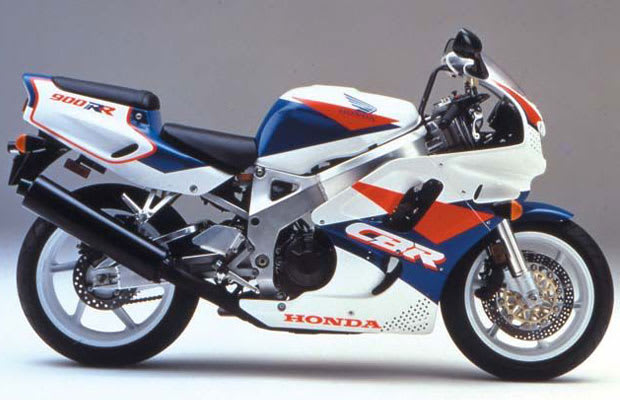 Year: 1993
Type: Sporkbike
Today a 900RR may seem like just another sportbike, but in 1992 it was from a different planet. Until then, going bigger than a GSX-R 750 left you with whales like the CBR1000F, but the 900RR weighed just 5 pounds more than a 1993 CBR 600 and made heaps more power. It was the first modern sportbike, in terms of styling, purpose, and performance. Shame then about the twitchy 16" front wheel.
21. Aprilia RSV4 Factory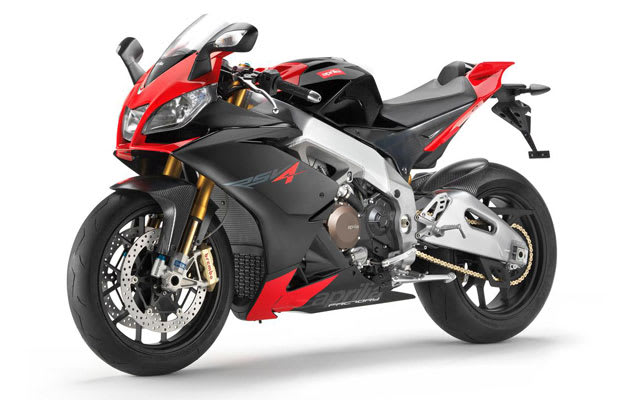 Year: 2010
Type: Factory Special
The RSV4 Factory is powered by Aprilia's first production four-cylinder engine, and makes a fantastic noise (and 178bhp!). The 2011 Factory has traction and launch controls, but the earlier model had huge power and nothing to tame it apart from a couple of throttle maps and Ohlins suspension. The 2010 felt exciting and dangerous compared to BMW's relatively sanitized S1000RR.
20. Laverda 1000 Jota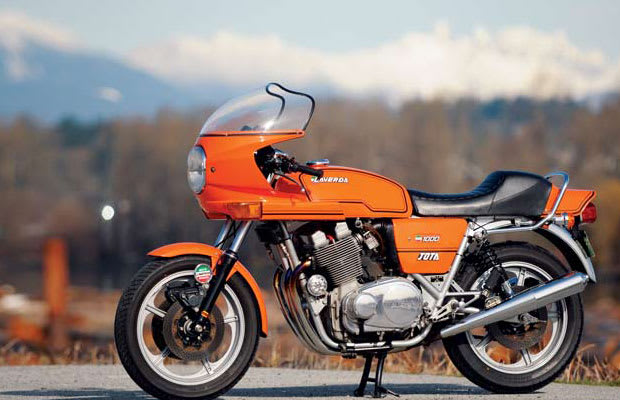 Year: 1979
Type: Sportbike
Three Dell'Orto carbs feed the Jota's three snarling cylinders, and helped it reach 146mph. It was the first production bike to crack 140mph, and it won the UK's Avon Production race series in '76.  The clutch has to be manhandled but the Jota is a reliable bike with good parts availability; owning one can be a pleasure.
19. Honda CBX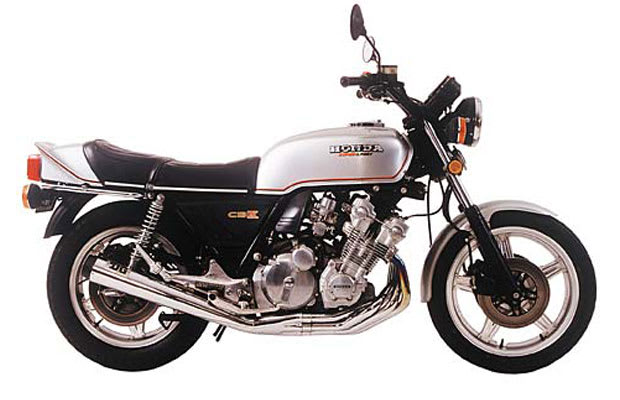 Year: 1979
Type: Sport Touring
Honda used the expertise gained from the development of its legendary Six to create the CBX. The sonorous twin cam does convincing Ferrari impressions when it's at the top of the rev range; many a collector puts up with the frustrating valve adjustments and six carbeuretors in exchange for that addictive wail.
18. Ducati 916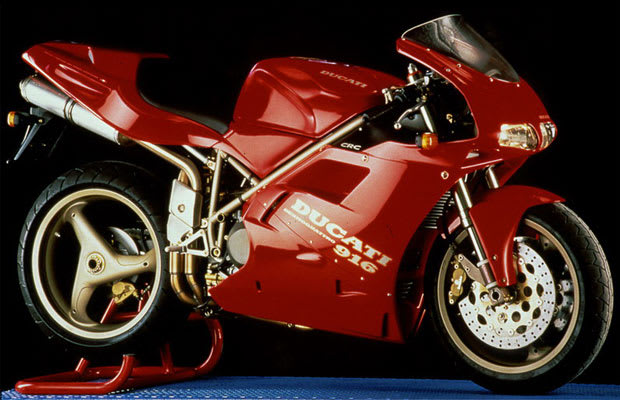 Year: 1994
Type: Sportbike
The 916 presented the Honda NR's styling with Italian flair. The single-sided swingarm and undertail exhausts look sexier on the 916 than they have on any other bike, and it manages to pull off the squinty headlights without looking self-conscious.   The bike made it to the Guggenheim and won the World Superbike Championship six times.
17. Kawasaki H2 Triple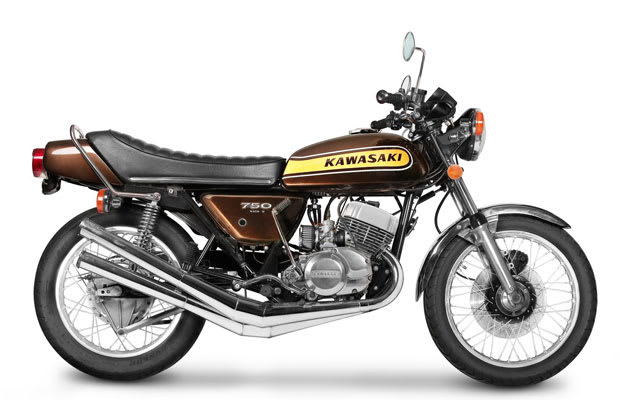 Year: 1972
Type: Sportbike
Read through on-line forums and you'll find people who are still terrified of these two-stroke triples, even though they haven't ridden them for twenty years. The H2s had a wild power-curve, no brakes to speak of, and a noodley frame. Even so, they are prized by collectors for their dramatic ride and absolutely manic sound.
16. Buell XB12R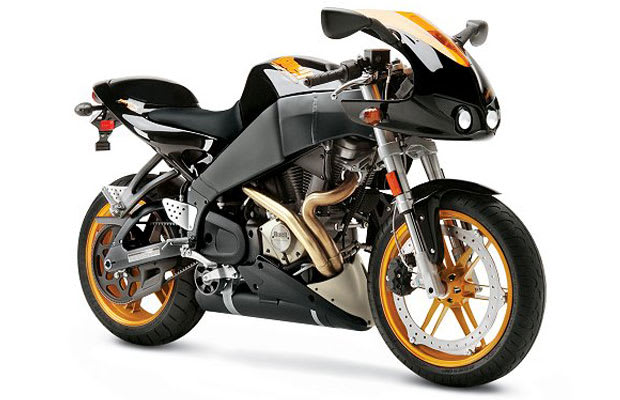 Year: 2010
Type: Sportbike
One senses that Harley finally gave Eric Buell the creative licence he deserved when they approved his XB series of bikes. The inside-out front brake was groundbreaking and looks sensational, the exhaust is under the belly, and the bike carries oil in the swingarm. The XB12R could not  keep up with the Japanese bikes on the track but outright speed was never the goal. As a design-conscious sportbike, the american-made Firebolt is unequalled.
15. Bimota Tesi 3D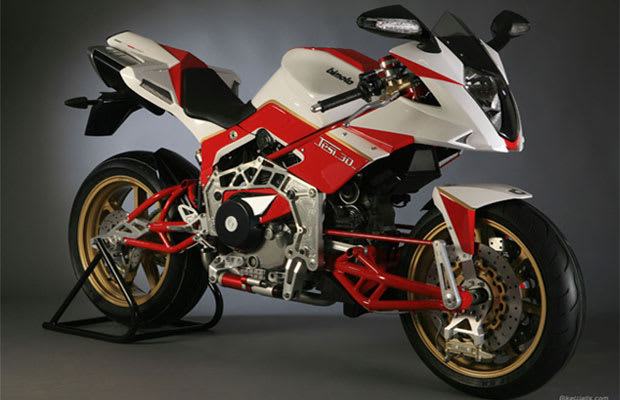 Year: 2003
Type: Sportbike
The Tesi makes MV Agustas look like Hondas; it appears to be half tubular steel and half billet aluminum. The hub-centered steering and pull-shock "fork" is the craziest part. It may not outperform a regular fork but it works well enough and helps the bike look more mechanical than anything save, perhaps, a skeletonized wristwatch. The Tesi's Ducati Multistrada powerplant underlines the fact that its primary purpose is visual theatre, and that it delivers in spades.
14. Ducati 999R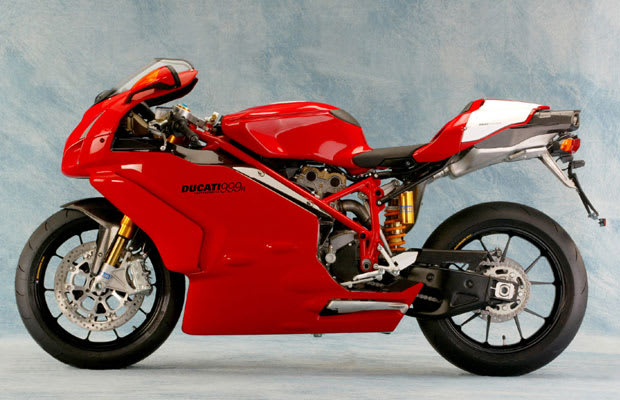 Year: 2003
Type: Sportbike
Designing a follow-up to Tamburini's legendarily beautiful 916 was always going to be a challenge, and when the 999 was revealed the public hated it—it looked clunky, didn't have a single-sided swingarm, and even the gauges were less emotive.  However, time has morphed the 999 from clunky to functional, from pudgy to powerful, and from not-a-916 to definitely-Italian. It's an affordable modern classic, and there isn't anything else like it.
13. MTT Y2K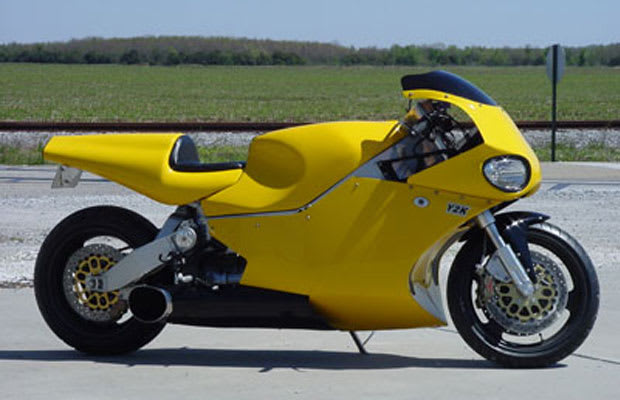 Year: 2000
Type: Sportbike
The Y2K is jet-powered lunacy. MTT figured out that old Bell Jet Ranger helicopter turbine engines require expensive maintenance for continued air-use but are safe enough for road use. Then it started stuffing the turbines in it's bespoke Y2K. The result is nothing short of sensational. When the jet-engine spools up nothing else can come close—it makes 320bhp at 52000RPM and pushes the wheel-driven Y2K to 227mph.
12. Yamaha R7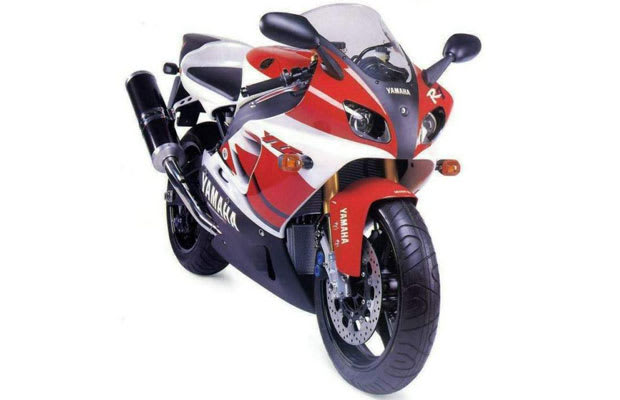 Year: 2000
Type: Factory Special
The R7 may look like a svelte R1, but beneath the skin is a technological masterpiece. Only minor modifications were allowed by the production-based World Superbike series rules, so Yamaha pulled out all the stops for this homologation special. The chassis is twice as stiff as an R1's, and the engine sports 20 titanium valves and nickel-plated forged pistons. To simplify homologation, the R7 produced only 100bhp out of the crate, but had a separate, unused bank of fuel injectors that boosted power to 135bhp when activated.
11. Aprilia RS250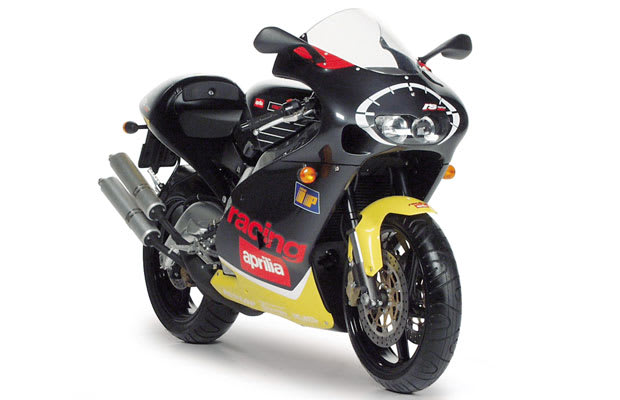 Year: 1995
Type: Sport Bike
A few street-legal RS250s have been brought into the U.S., and they're quick. The little 250 makes 240bhp/liter, and specific output unmatched by anything else on this list. With its digital instruments, dual expansion chambers, and a fully-stressed engine, it really is a racebike for the road.
10. Honda RC30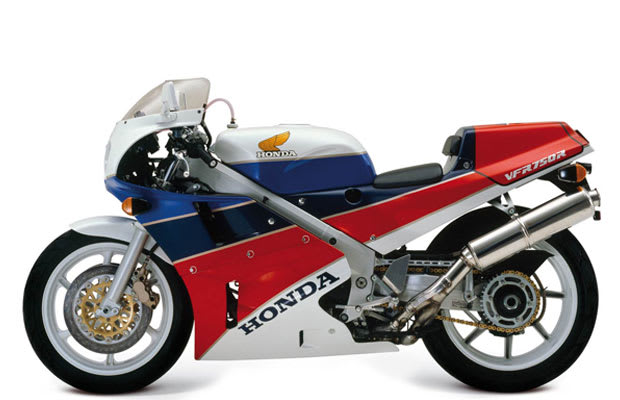 Year: 1990
Type: Factory Racer
The RC30 was a homologation bike for the World Superbike series, but instantly became an object of desire for more than racers. It looked so delicate and fragile until it was turned on. Then, it morphed into a banshee. RC30s made 112bhp in Europe and 86bhp in the U.S., and had a long first gear and slipper clutch to improve rideability on the move. It's a great bike to ride, but its enduring popularity stems from rarity and shockingly good looks.
9. Moto Guzzi V8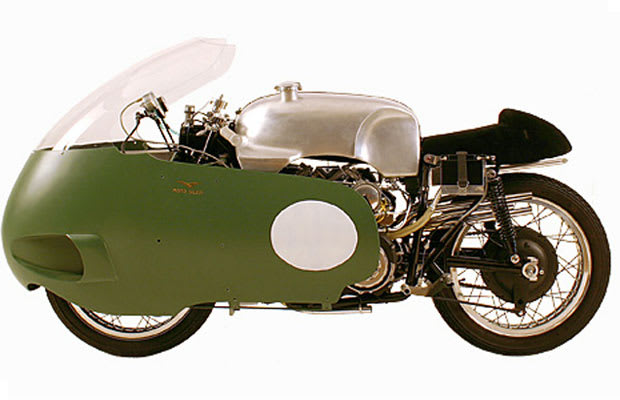 Year: 1955
Type: Road Racer
In the '50s, Moto Guzzi used its vast race-engine experience to create this masterpiece. The water-cooled screamer displaced only 500cc, had four camshafts, and eight baby carbeuretors. It produced 78bhp and powered the faired V8 to around 175mph, which was a colossal speed back then. Unfortunately, engine failures were common and the program was hugely expensive to run, so in 1957 Guzzi decided to can the V8.
8. Ducati Desmosedici RR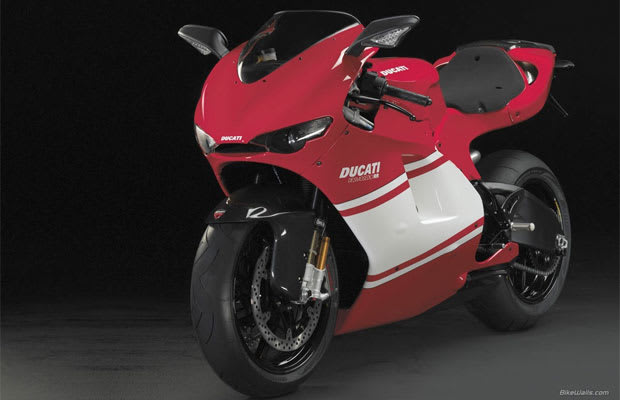 Year: 2008
Type: Factory Special
The Desmosedici RR is as close as it gets to a road legal Moto GP racer. The four-cylinder was a departure and has a "twin-pulse" firing pattern, gear-driven cams, and titanium valves, just like the race bikes. The body is carbon fiber, the wheels are magnesium, and the bike shares its frame geometry with the GP6 racebike. It is overkill for the road, but overkill is underrated.
7. Vincent Black Shadow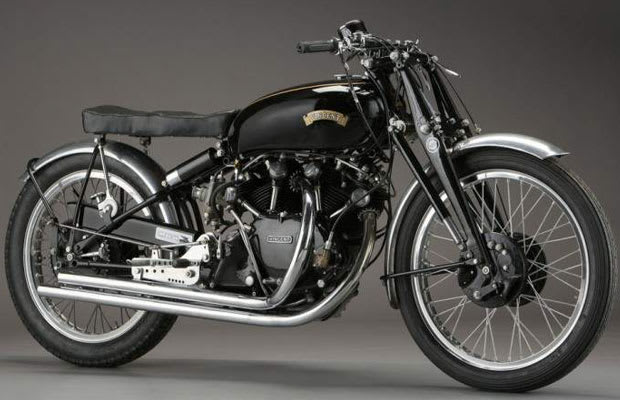 Year: 1948
Type: Sportbike
Hunter S. Thompson was obsessed with the Black Shadow, and referred to it in Fear and Loathing in Las Vegas (he jokingly offered to enter it in the Mint 400 Desert Race) and various magazine articles. The kickstarter bruised his foot and the breather would spray boiling oil all over his leg, but he was charmed by the "goddamn fiendish Vincent Black Shadow."  It was an innovative bike, with a stressed engine and extensive use of aluminum, and held the title of fastest production bike ever into the late 60's.
6. RSD CR500 Super Single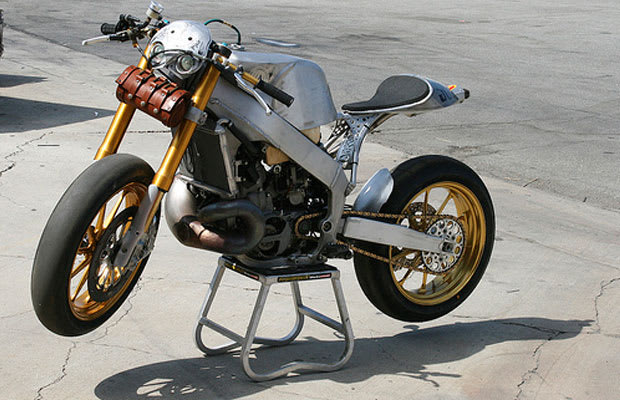 Year: 2009
Type: Road Racer
The life of Roland Sands has been saturated with motorcycles. He rode a dirtbike at age five, worked at a motorcycle fabrication shop as a teen, and thewent on to become a professional roadracer. His CR500 cum road-racer epitomizes the gritty-yet-polished, rideable artworks that come out of his custom shop, Roland Sands Design.
5. Confederate Wraith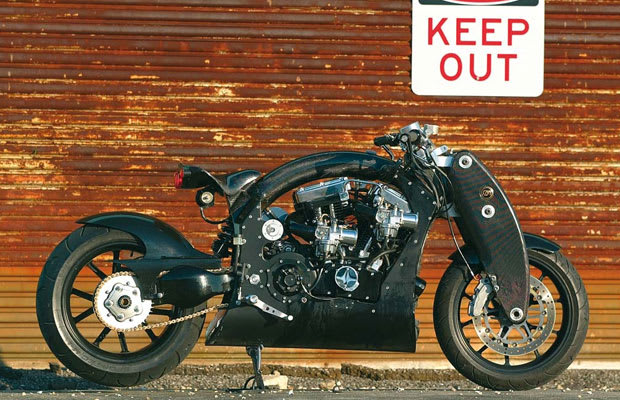 Year: 2008
Type: Cruiser
JT Nesbitt designed the Wraith's fork geometry by pinning paper cutouts together with brads, and came up with the frame design by drawing a concentric circle around the crankshaft. The result is a rolling monument to the transverse twin. The award-winning Wraith is an achingly beautiful, surprisingly rideable bike from Confederate Motorcycles, which moved from New Orleans to Birmingham, AL after Hurricane Katrina.
4. Suzuki RG500 Gamma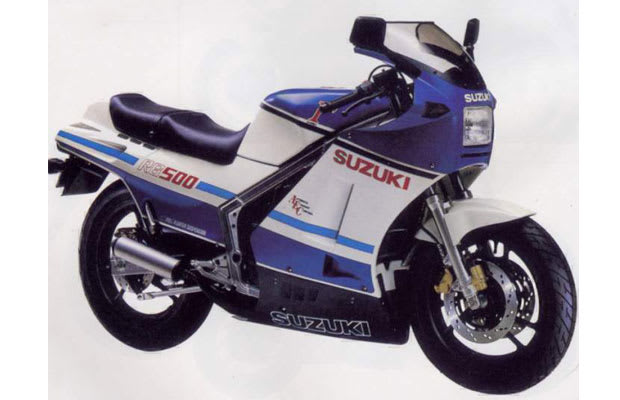 Year: 1985
Type: Sportbike
In 1984, Suzuki brought this quadraphonic chainsaw massacre to the road-going 2-stroke hypersports battle. The RG500 was a nimble bike, but roars onto this list because of its loony motor. It has four pistons, two crankshafts, and rotary valves to help capture the intake charge. The front of the bike looks looks tame, but four awesome pipes pepper the back and dump clouds of two-stroke on anyone lucky enough to be nearby. It might not be the only bike ever with a square-four engine or rotary valves, but it's hard to think of another.
3. BMW R32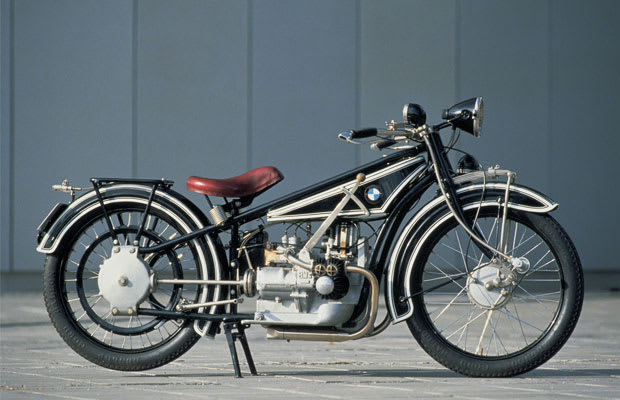 Year: 1923
Type: Motorcycle
BMW was prohibited from building airplanes after World War I, so in 1923 they began building motorcycles, and they hit the ground running. The R32 introduced what would become the typical BMW:  a boxer-twin with shaft-drive. It wasn't until 1928 that BMW started producing cars, though BMW's chief engineer still wasn't fond of anything that didn't fly.
2. Honda NR
Year: 1992
Type: Factory special
What's this? A chunky 916 wrapped around the most fascinating engine ever built?  The NR was a roadgoing homage to Honda's oval-piston "New Racing" series of bikes that had started in the late 70's.  The four pistons are shaped like NASCAR tracks and boast two conrods and eight valves each.  The bike was released before the 916, and inspired the Ducati's slabby fairings, squinty headlights, and twin undertail exhaust.  The NR is a stunning reminder that no matter what BMW or Ferrari come up with, Honda still makes the greatest engines in the world.
1. Britten V1000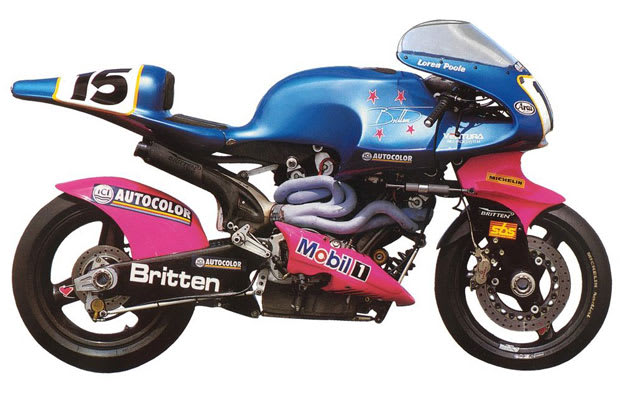 Year: 1991-1998
Type: Factory special
Twenty years ago, New Zealander John Britten and his buddies set out to build a superbike in their garage.  Britten even designed and built the engine.  When they were done, they had a carbon-fiber bike that went on to win the New Zealand Grand Prix title and the Battle of the Twins at Daytona. The V1000 was a brilliantly-engineered bike and the 10 that were eventually made are living testaments to Britten's genius.  The V1000 is also Guy Martin's dream bike, and that's saying something.